Black nylon IP68 cable protect gland
(not shown in photos)
Walk mode 250 lumens for 1.1 watts battery hit at nominal voltage

Combined concentrated centre spot beams and low level peripheral light gives enhanced perspective.

Max output 2200 lumens for both beams and floods. (Beams 2100 lumens with low level combined flood)

Three beam and flood modes.

Constant low level flood with beams gives foot level peripheral light.

Weight only 200 grams.

IP67 waterproof and no silly flashy modes.

225 lumens walk mode for 26 hours plus off a 4 cell Li Ion power pack.

Backup circuit incorporated into the beam ensures continued output even if main electronics fail.

Voltage indicator, 'Nightrider' blue LED strip at 25%,50%,75%,100%. Turning lamp upside down actuates.

Only £185 for kit of lamp, 4 cell power pack, charger and fitting kit.
These have a newly introduced reflector that provides a concentrated centre spot in the beam, Combined with the low level constant peripheral light this gives a new enhanced perspective on ones underground surroundings.
This is a new feature.
The lamp is a genuine Fellows Bat Roaster all in aluminium for £185.
Switch is top rear, easy to reach but out of harms way.
4 cell 'Flat Pack' fitting below.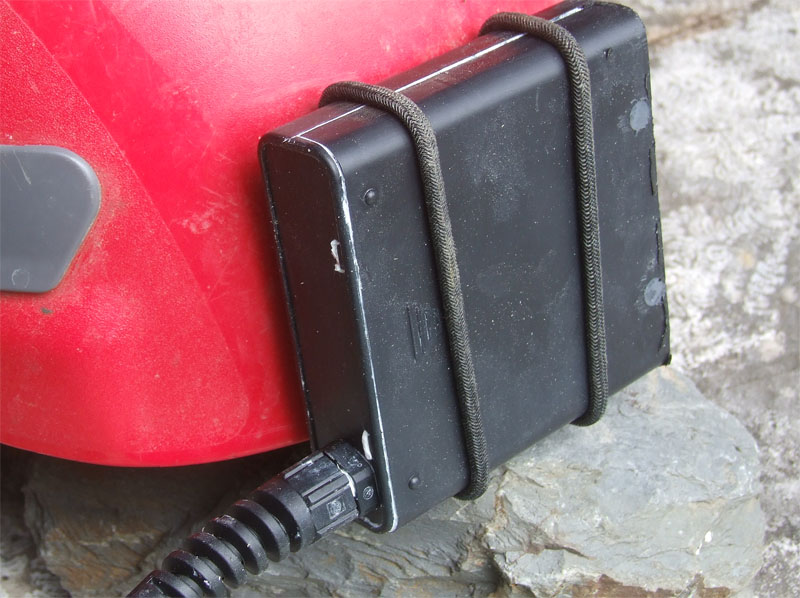 1 lamp, 1 by 4 cell helmet mount battery flat pack, dedicated charger, plus fitting kit. Price £185 plus £10 post and packing, total £195.
P and P includes insurance on this lamp.
Higher spec alternative: The Scorpion X8