Scorpion TGX
Tough and very waterproof.
---
New generation of lamps being developed
---
1/ NEW Scorpion X12 Ultra
This will replace the previous X8 and X12 plus a new IP 68 5 metre rated battery connection. This will bring the whole lamp up to IP68 spec.
---
2/ Scorpion X16 upgraded.
new version has smaller detachable battery with alot of the electronics being moved into a charging adaptor. A IP 58 rated screw locked plug seales it to IP 68 standard. The new battery wsweighs in at avery modest 270 grams.
---
3/ Under development. The Dragon 5
This will be GoPro mounted same as all the other lamps and use lighter components to reduce the weight to a target 100 grams.
---
4/ Replacement Stenlight cables
Available in the New Year, these will be of 5mm Chainflex cable and made to fit either original Sten battery or one of my 2 cell packs.
---
4 cell power packs supplied prior to February 2014, Trigons and some X3000s.
It is highly recommended that you upgrade to a new flat pack (as shown below) for increased lamp power and burn times.
Price is £60 plus postage.
See below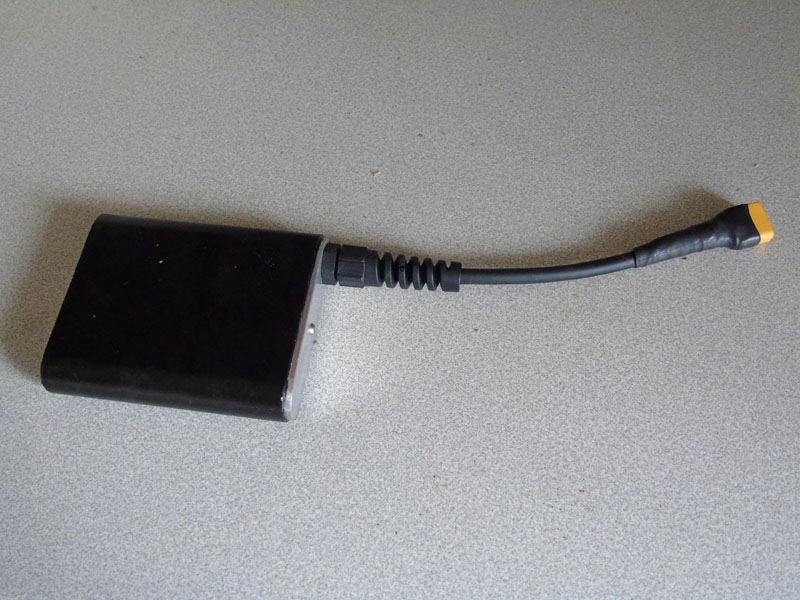 Power pack is sealed waterproof, shockproof and explosion proof ABS plastic internally potted.
IP67 waterproof, 1 metre submersion for up to 30 minutes.
Shockproof, dropping, roof contact etc.
Explosion proof, chemistry breakdown causing cell venting, case lid forces off and vents to atmosphere.
---
RECENT DISCONTINUATIONS