Tough and very waterproof, Coming soon.
---
Dragon revised.
Now simple 2 mode off the switch, standard and high analogue operation, plus downlighters operate upon connecting battery. IP 68 5metre waterproof (short periods only due to cable plug). Lamp redesigned to improve intrinsic reliability and suitability for hard caving. EX stands for "Extreme use"
---
Following some inquiries I have done duration tests on power banks and it appears that some change has been made in either management circuitry as I now longer get a slow diminishing output up to 24 hours on the 2 cell version tested.
(Does not apply to Scorpion TGX which is designed differently)
A Dragon was tested on standard mode and gave virtually full power for 12 hours then diminishing for a further 3 -4 hours when it died after about 16 hours.
I have changed the description on this website and in my literature, and apologise for any misunderstandings caused.
Of course, a diminishing output will reach a state when the level of light is useless. It's possibly the management electronics that are now shutting off at 2.6V rather than 2.5V, which really was a bit low.
---
4 cell power packs supplied prior to February 2014, Trigons and some X3000s.
It is highly recommended that you upgrade to a new flat pack (as shown below) for increased lamp power and burn times.
Price is £60 plus postage.
See below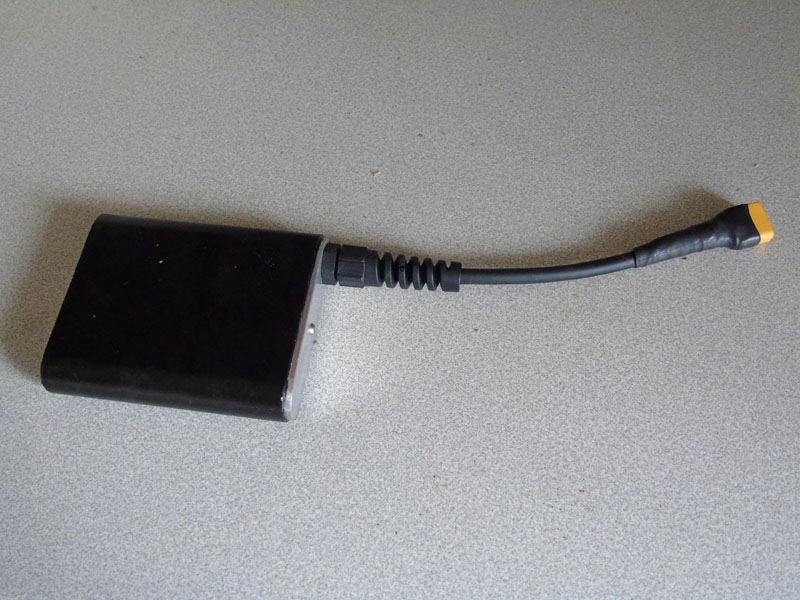 Geeky Stuff
Power pack is sealed waterproof, shockproof and explosion proof ABS plastic internally potted.
IP67 waterproof, 1 metre submersion for up to 30 minutes.
Shockproof, dropping, roof contact etc.
Explosion proof, chemistry breakdown causing cell venting, case lid forces off and vents to atmosphere.
Max safe discharge limit of cells 10 amps
Max continuous discharge electronic control 4.3 amps, over current test delay: 10ma; auto recovery after over current protection
Max charge voltage 8.55V (Dedicated charger cut off is 8.4) Overcharge test delay: 100ms; Overcharge resume voltage: 8.16 ±0.05V
Min voltage on discharge 5V. Over discharge test voltage: 4.80V±0.1V; over discharge test delay: 25ma; over discharge recover voltage: 6.0V±0.10V
Short circuit protection. Short circuit protection test delay: <=500us; auto recovery after short circuit protection
Latest 2 cell power banks.
3.5 AH version shown, 4.25 AH version is slightly longer.
4
---
RECENT DISCONTINUATIONS
Dragon D1800: Revised model has less functionality but more intrinsic reliability. Not much different to the last D1800s shipped with upgraded glands and switch boots.
Lynx X6000: Replaced by X_12
Lynx SAR2: Seriously good lamp but too finicky to produce in an economically viable manner.