Jargon Buster
Watt's a lumen?
To understand the lamps you need to understand some common terms. Amps are the measure of electrical current that flows through a circuit of part of it. The now obsolete Oldham lead acid caplamp bulb runs at 1 amp. Volts technically defined as potential difference or electromotive force can be equated to pressure like the pressure of water in a tap. Turn on the tap the pressure drops and you have a current. Watts* are units of power and are arrived at by multiplying the amperage by the voltage. The standard Oldham caplamp has a 1 amp bulb and the battery is rated at 4 volts, so its classed as 4 watts.
(* Defined as a duration of energy equal to 1 joule for 1 second)
Lumens are units of light, it stands for 'luminous flux', that are actually produced at source, and should not be confused with Lux which is a measure of light falling on a specific area at a specific distance. The Oldham lead acid caplamp produced 48 lumens of light for a consumption of 4 watts. LEDs produce a lot more light, a Cree XML2-U2 will produce approx 3 times this at 1 watt
Lumens cannot be physically measured and have to be calculated from the LED manufacturers data sheet..
https://en.wikipedia.org/wiki/Luminous_flux
A 220volt 100 watt light bulb produces about 1000 lumens, this is the league we are in with my lamps.
However, lumens do not tell the whole story, second to this in importance are the optics, its no good having a powerful LED if half the light goes to waste. This explains why you will sometimes see a lamp rated at say 500 lumens beat one rated at 600 lumens.
The relationship between lux and lumens is fully dependant on the way that the light output of the LED is managed, this a bare emitter could have a very high output expressed in lumens, but would have a very low lux, equally a miners lamp such as an Oldham DL 16 will have a very high lux for its relatively low lumen of 90 lumens. This is because all of the light generated is focused into a very tight beam.
So if we widen the beam say by 100%, in order to maintain the lux rating and therefore the throw, we would have to increase the output of the LED by 100% to 180 lumens.
BEWARE OF FALSE SELLING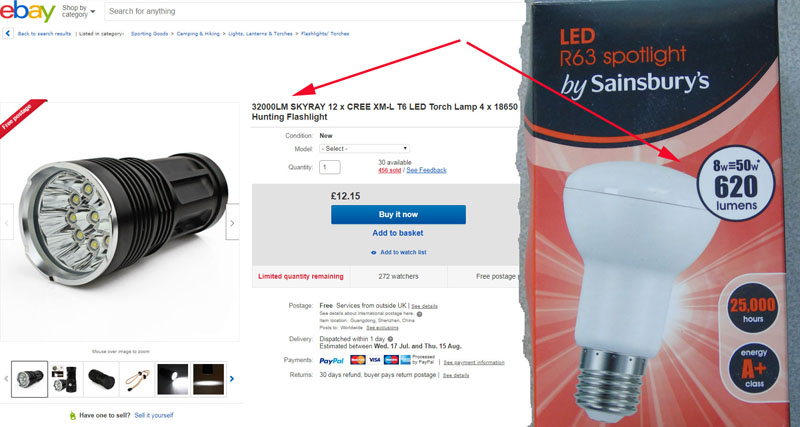 Sainsbury's are a reputable store, their bulb (right) is correctly described. The torch left is described as "32,000 Lumens", they are OK for the money but the output, probably about 3,000 lumens fresh charge, nosedives as batteries go down.