It started with a simple thought. I saw some off road bikers with GoPro Hero cameras mounted on their helmets, and wondered if this idea would make a good lamp. My original idea was to duplicate the camera as an aluminium, heat sink finned box with the GoPro window set in the front. Some experimentation revealed that the window was far too small to cover any effective reflector combination. However, playing around with the idea convinced me that is was a very good one in that a box with its flat surfaces will mount just about anything. So if driver boards become discontinued, I can use a different one, whatever.
There is a huge advantage with using GoPro mounting as the lamp can be mounted on virtually anything with the wide range of different mountings available. GoPro is the future.
Obviously a round glass similar to my other lamps would be easily obtainable and could be direct bonded to the front of the lamp same as a car windscreen. This is already used in the Dragon. Obviously a surround would be needed to protect the glass. Another advantage would be increased water resistance. The Chinese die cast headset shells used in the Lynx lamp are only rated to IP 67 which is 1 metre submersion for 30 minutes. I have had lamps exceed this in very adverse conditions, such as a waterfall that strong that the wearer could not even stand under it.
The Scorpion is IP68 5 metres submersion, but obviously with a time limit due to risk of water getting in from the cable plugs by travelling up inside the cable sheathing.
I was also keen to put into practice an idea I had in my head for some time. That of using a 12 volt DC input to drive 3 emitters wired in series whereby two are placed behind spot reflectors with the third as a bare emitter. This giving 2/3 of the power to the beams, 1/3 to the floodlight. I found that this is the ideal combination, but my big bat cookers, by virtue of their size and power, needed 3 to 3 beams to floods. The idea also occurred that using a double throw switch I could have two groups of three each with a totally independent circuit, as high range of settings and a low range of settings. This was the original concept, the Scorpion X_12.
The problem with 12 volt lighting is that it requires 3 series battery cells, so its multiples of 3. 3 is OK on a helmet pack, but 6 gets big and heavy. However recent advantages in LiIon battery technology by people such as Sanyo Panasonic and Tesla have produced very high capacity high discharge cells. So now a 3 cell helmet pack weighing in at 280 grams is good for 3.5 ampere hours at its nominal voltage of 11.2 volts.

Left is the MOSFET controlled battery management PCB that prevents overcharge, over discharge, and short circuit. Typical of the high quality third party components.
I also considered the finish. I have a lamp returned for repair that looked as though it had been dragged behind a Land Rover. A brightly polished and anodised lamp looks nice when new but after some hard use looks a mess. Unfinished aluminium will look the same in 12 months as when it was purchased.
Internally, the lamp uses existing tried and tested components.
The low range beams on the X_12 are by Cree XP-G 2 emitters which will throw a decent beam from small reflectors and in my o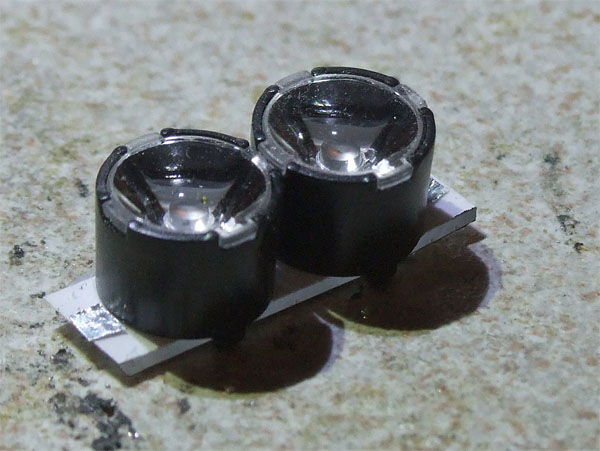 pinion give best brightness at low currents.
They are mounted behind excellent, but expensive, Ledil optics and are really very good for their size.
These have previously been used as the pilots in some of my big bat cookers.
Having assembled a prototype and tested it it now occurred that it would be a good idea to offer a second model similar to my ever popular Lynx X2000. But offering improved water resistance and a shorter heat track between the floods and ambient.
Thus was born the second in the series, the Scorpion X_8. Exactly the same inside as the Lynx X2000 but with double the supplementary floodlight which comes on with the beam. Now at 100 mA it matches the standard beam mode on the 'magic' 2 to 1 ratio like the X_12. This is the lamp for those who prefer a lamp with independent floodlights. The Lynx X2000 is a cheaper alternative but the Scorpion has the GoPro and IP 68 benefit and also better heat dissipation from the floodlights as the heat has only 10mm to travel to ambient.
The final model is TGX, This will be produced in various LED configurations but as a lamp permanently connected to the battery case to prevent water ingress by travelling up inside the cable.
I have now been producing lamps for 10 years and have stayed with my established principle of wiring multiple LEDs in series matched to the input voltage. This is a sure formular for combining very high outputs with maximum efficiency. I have always used off the shelf components, often modified, in order to keep the price down. The lamp body is manufactured in Scunthorpe, the switches are from Germany, cable Italy, the only complete outsourced component is the circular glass protector which is from Lazermaster in Cornwall. I have a small toolroom in an outbuilding where a lot of machining or remachining is done myself, my electronics lab is in the house.
The lamp is intrinsically reliable by virtue of its design and very easy to replace any individual component if the need arises. Both the X_8 and X_12 have two totally independent electronic circuits plus a linear backup built into the beams. The multiple series wired LED configuration of the X_8 and X_12 provide the most powerful commercial practical head lighting obtainable. I use copper which has double the thermal conductivity of aluminium for the LED mounts.
The result is a very competitively priced lamp that considerably outperforms lamps costing more than double the price.